PREVIOUS/More about Collette
Molested at Willamettans
The Coercion of Nudist Children: Stripped of Personal Freedom:
Part II
by Collette Marie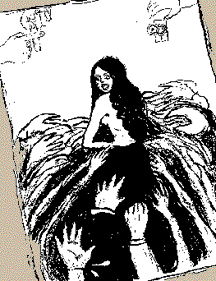 "If Willamettans management does not wish to discuss camp policies regarding child molesters with a former Willamettans' child molestation victim, then who will they talk about it with?" --Collette Marie about Willamettans Nudist Camp.
On February 1, 1990, I wrote Willamettans a five page handwritten letter, describing in full my experience of being molested at their nudist camp nearly two decades before. I asked questions regarding their policies concerning child molesters.
Do nudists camps network with one another, informing one another of child molesters so they know who to closely watch or to bar?
Are recidivists ever barred from attending all nudist camps for the protection of children? If so, how many offenses does it take in order for them to be "blacklisted"? (Why isn't the first offense enough?)
Why was the man who molested me not only allowed to attend other nudist camps after that incident, but allowed to judge a nude beauty pageant the next year?
I asked where this man was now, if still alive. I requested his address so I could write to him regarding my feelings of his past treatment of me.
I asked Willamettans to please not protect the abuser in this case, as it all too often happens.
I got back a well-meaning but extremely short and uninformative letter. They failed to address any of the issues I raised regarding camp policies concerning pedophiles, and referred to my molester, whose first name I remember as Lonnie, only as "the party." Theirs was a disappointing response, to say the least. Especially since I gathered from the letter that Willamettans is possibly aware of the man I asked about.
Willamettans did not (as I had requested) elucidate their policies, nor did they reassure me that improvements in the system have been made regarding pedophiles since I was molested at their club.
If management does not wish to discuss camp policies regarding child molesters with a former Willamettans' child molestation victim, then who will they talk about it with?
I believe there is a denial at nudist camps regarding the sexual deviants in their midst. For these reasons I believe that nudist camps remain excellent places for abusers and a dangerous place for children.
Collette Marie
---
CONFRONTING WILLAMETTANS

by Nikki Craft
I met Collette Marie when I was working in Bellingham, Washington in the summer of 1990. During a slide show I gave at Western Washington University, which she attended, I discussed the exploitation of nudist children. Afterwards, she approached me and said that she had been photographed and molested at an Oregon Nudist camp.
Soon after that we met and she gave me an article she had written about her father that briefly touched on nudism. She showed me a copy of the pathetic letter that she had received from Willamettans' management in response to her lengthy letter about the camp's current policies regarding child molestations, as well as specific questions she asked about the man who had molested her at their camp.
After talking extensively with Collette I became convinced that the information she offers is reliable and that her story needed to be told.
Her writing spoke well for itself, so I asked her if she would be willing to write more. The article she wrote destroys the nudist/naturists' most cherished illusion: the image of the happy, wholesome, smiling, well-adjusted, clothing-optional family. I am convinced that her experience with nudism is not an isolated one, and that we need to listen to what she is saying carefully.
---
One thing Collette kept expressing to me during our conversations was that she wanted to confront the man who had abused her. So, I began calling long-time nudists to try to find out who this Lonnie was. It is (MY) belief that the same man who Collette asserts molested her is not only currently active in the nudist lifestyle, but contrary to the information that Willamettans gave her, he may still be a member at their camp.
When we began trying to find out that information, we were met with active non-cooperation by the Willamettans' management and the American Sunbathing Association (ASA, now AANR) in each and every attempt to discuss the matter or verify information. Still, we will go ahead and publish the information that we have available at this time.
NOPE welcomes additional information, particularly a photograph (or positive identification) of Lonnie who was on the panel of judges for the Western Canadian Sunbathing Association's (WCSA) Royalty Pageant at Meadowbrook in 1973, or any man named "Lonnie" involved in West Coast nudism who fits the description in Collette's article. For identification purposes Collette remembers that his hair was grey and cropped short at the top with no receding hairline; and that he wore a robe a lot of the time -- "almost like a habit."
---
This article contains the information that we have been able to obtain after talking with individual contacts within in the nudist community.
When I called Willamettans in August 1990, I spoke with the club representative who had talked with Collette when she called last February. Since he requested that his identity not be revealed, we'll call him Doug. Doug advised me that he did not want to make light of what Collette had said, but felt that since she had only described a man putting his hand up her shirt, that he believes "she should confront her father, rather than some man." Doug also stated that Collette's letter had been brought before the board and that one of the board members said that the Lonnie that fit the description had not been a member there; and that he was no longer active in nudism.
I asked Doug if he had discussed the matter with the Lonnie who is currently a member at Willamettans. At first Doug seemed surprised that I was aware there was a current member at their club named Lonnie. He replied, that there had been no reason to discuss the matter with him because that Lonnie (who was present at the camp during that convention in 1972) would not have been parked in the area where Collette was taken. Lonnie also had a small (ten to twelve foot) camper trailer; not an RV. (which could have easily been confused for an RV by a child.) Doug also stated that it didn't seem important to question Lonnie because he is not currently active at the camp.
But after making a few phone calls I learned that far from being uninvolved, it appears that a Lonnie (Willamettans refuses to verify his last name) does currently attend the club each weekend to play pool with his wife Pearl. In fact, even though Willamettans' management informed me that he was not present at the last ASA convention three years ago, it appears that according to another source, Lonnie was there. (This was the same convention where convicted child molester Tim Wilcox was ousted after complaints that he was furtively photographing children through the bushes.) During a recent convention at Willamettans, Lonnie was observed helping contestants on and off the stage during a children's talent show.
---
Since nudists commonly conceal their last names, even from close friends and since we have been stone walled by camp authorities, it has been difficult to substantiate Lonnie's last name. However, we have confirmed through one reliable source that the Lonnie who is currently a member at Willamettans is the same Lonnie who attended ASA and WSA conventions throughout California in 1970. We have also ascertained that according to financial statements dating back to April 1970 from Sequoian's Nudist Camp that Lonnie's last name is XXXXX. (At least that is the name he goes by.)
In the mid 1970's, according to Willamettan sources, Lonnie XXXXX (who also had grey or white/blonde hair) acted as the official camp photographer for Sequoians and "always had a camera with him." He reportedly held several positions on their board of directors as well. In 1974, Lonnie XXXXXX was on the board and also photographed alongside Leif Heilberg during the nudist child pornography heyday when Ed Leja and Heilberg photographed Nuddist Moppets (child pornography) at Sequoians. Lonnie XXXXX was an active nudist who traveled extensively to different camps during the 1970's.
The Lonnie who is the current member at Willamettans currently lives in Sweethome, Oregon. He has been described as over 70 years old, 6 foot 1 or 2 inches, lanky, suntanned, slim 160 pounds, grey haired, soft spoken, and a photographer. A current Willamettans' member said that Lonnie has always been "nice" and "didn't make any waves." This member said, "Lonnie was a good person to have around and he would always ask to photograph." (If this is the same Lonnie he did ask Collette if he could take her picture too. *PERMISSION MEANS NOTHING, FOLKS*) A long time member of Willamettans has verified that the same Lonnie who is currently a member was also present at the WCSA convention in 1973, and was possibly at the NSA convention in 1972.
When Willamettans suggested that it would be impossible to get a positive identification on Lonnie, after all these years; then I suggested that they send Collette five photographs of similar, but different looking men, and not tell her which one was Lonnie XXXXX. They could then verify if Collette had identified Lonnie. [I figured it wouldn't hurt to have his photo, either ;-).] It seemed fair enough, but, Willamettans refused. Doug then assured me that a board member would soon be contacting me about this matter. The board member never called us. However, I later learned that on September 25, 1990 the American Sunbathing Association board informed the Willamettans' board not to discuss this matter (for any reason) with anyone.
---
In this article we do not mean to suggest the guilt of any Lonnie who is currently active in the nudist lifestyle. We publish the information thus far available to us to illustrate that, after only several phone calls we, (who are oursiders) can present enough information that suggests that it should have been obvious, that the Lonnie who currently plays pool on their grounds every weekend should have been (at the very least) questioned about the incident.
From the information we have, no one wants to put Lonnie in jail; or even on trial. Nobody is saying that he's even guilty of anything; or that he isn't a perfectly nice, helpful, friendly guy.
However, Collette Marie does want to confront her abuser, and we believe she and other victims of abuse deserve at the very least, that opportunity. Why not let her and Lonnie talk this over? If he is not the man she is looking for, then that can be established.
We contend that Willamettans should be facilitating that process rather than hindering it. Furthermore that they should not have been so quick to discount the allegations of a woman who was sexually assaulted on their grounds as a child.
There is not much we can think of that is more disgusting than the first letter Willamettans wrote to Collette except for the second letter they wrote to her. There was not even a signature on it. Once Willamettans, Inc. realized this was a matter that was going to be pursued they began worming their way out of responsibility (legally and otherwise) regarding what happened to her on their property. Stylistically, the second letter might be more literate, but it lacked even a feigned concern for Collette's experience. The letter insinuated fabrication on her part, and made it apparent that, since the club records made no mention of the "alleged" incident, it was not of any concern to Willamettans, Inc. By omission, they also refused to return the letter she had written when she requested they do so.
It's not hard to convince me that camps maintain half-assed record keeping, nor that this incident would have been intentionally kept out of any written record. Camp managers are often like that. They protect their buddies -- the good men who are their dues paying members.
We believe that not only is Collette's experience a common one; but unfortunately so is the "cover thine ass" response of club management and the ASA. Collette Marie has perceptively articulated the coercion of many nudist children, while Willamettans has perspicuously exhibited the shameful non-response of nudist camps when it comes to instances of child molestation.
Her questions to Willamettans still ring in my ears, but one in particular resounds. It is: "If Willamettans management does not wish to discuss camp policies regarding child molesters with a former Willamettans' child molestation victim, then who will they talk about it with?" --NC

More about Collette Reprinted from the ICONoclast. Copyright 1995 by Nikki Craft. All Rights Reserved.

BACK TO NUDIST/NATURIST HALL OF SHAME