BUSTING MR. SHORT-EYES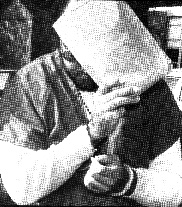 Joseph Wanner shields his face on the way to his arraignment. In a letter to a naturist magazine he once railed against nudists who objected to being photographed.
by Nikki Craft
This is one of the most terrible times for sexual minorities in years, and we must form links with one another to overcome the common enemy of religious prejudice and oppression. It does none of us any good for lesbians and gay men and bisexuals and nudists and pedophiles and pornographers and sado-masochist people to point fingers at each other and say the other person is immoral. None of us are free until we are all free. --Convicted child rapist Joseph Wanner, alias "Robert Bandonis"
When Willie Sutton was asked why he robbed banks, he replied, "Because that's where the money is." Well, if you're looking for nude children it would be logical to go to places like a nudist camp or beach where nude children are going to be. --Patrolman Robert Gately, Wanner's arresting officer
On May 29, 1992, Joseph Robert Wanner, 39 years old--substitute elementary school teacher; "pro-feminist" member of a university women's action committee; naturist; and articulate defender of abortion, animal, atheist, and Native American rights--was arrested at his home in Kutztown, Pennsylvania. The 70-page search warrant and affidavit--reported to be the longest and most detailed in the history of Berks County--charged Wanner with 14 counts of rape, 14 counts of statutory rape, 12 counts of involuntary deviate sexual intercourse, 3 counts of corruption of minors, 19 counts of sexual abuse of children for the production and manufacturing of child pornography, 144 counts of child sex abuse for possession of child pornography, 17 counts of indecent assault, 6 counts of aggravated indecent assault, and 1 count of voluntary deviate sexual intercourse (with a cat).
The affidavit also cited an anonymous person who told the police about Wanner in the first place. That "confidential informant" was me.
UNDERCOVER AMONG NUDISTS
In the early 1980's I was arrested myself numerous times--in Santa Cruz, Rochester, Oshkosh, and Cape Cod--for refusing to put my shirt on at the beach when ordered to do so by state and federal agents. I considered it an intolerable insult to be told what to wear by the government in a society where corporations exploit women in topless bars, pornography, and advertising and we are denied control of our own bodies.
Because of my civil disobedience for shirt-free rights, I was offered a part-time job by Lee Baxandall, president of The Naturist Society, Inc. (TNS), the second-largest organization representing nudists in the United States. During my five years working for the company, I also lived at TNS headquarters with Baxandall. There I became privy to letters, news articles, police reports, and private conversations about men in the movement who, like Wanner, were looking for sex with children--not exactly the naturist party line about "wholesome body acceptance."
My own anti-pornography activism also put me on the trail of naturist pedophiles. I traveled across the midwest doing civil disobedience in a year-and-a-half action called "National Rampage Against Penthouse" in the mid-eighties. In Iowa the president of an American Civil Liberties Union chapter approached me after my slide presentation and offered me three large boxes of pornography that he claimed had been found in a trash can in the city park. He advised me to rip it up or burn it, whatever I desired. It was the most explicit, most extensive collection of child pornography I had ever seen.
The next week, as I went through all the boxes, I first felt sickened and defeated, then enraged. Amidst urination and bondage magazines using children in every way imaginable were copies of nudist publications like Nudist Moppets, Little Nudes, and a publication called Brats. On one page was a photograph of two children in the swimming pool at Tan Oaks nudist camp; on the next, a man wearing a black ski mask was raping an Asian child. I recognized the signature photographic styles of several well-known naturist photographers. The collection even included a copy of The World Guide to Nude Beaches, a book put out by my employer and edited by Baxandall.
But nothing prepared me for what I learned first-hand during nude events. At one Naturist Society gathering I attended at Elysium Fields in Southern California, a mother was terrified after a very weird man (he was, I met him) stalked her little girl. He followed the family for two days. He even asked the parents where they lived and if their child was allowed to play out in the front yard. Though Baxandall was present when the mother complained to the camp owner, the man was allowed to run for a Naturist Society leadership position several years later.
At another TNS event in Los Gatos, California, in 1983, a girlfriend of my lawyer's daughter told me she was molested by a man in the sauna. My lawyer, his daughter, her friend, and I confronted the man for over an hour. The camp owner asked the man to leave but declined to call the police. Then in 1984 at a TNS gathering in Arizona, I observed a group of men throwing money into the swimming pool for almost the whole day, for children to dive in after. Later that afternoon, I learned from a very dejected child that one man had lured them to the parking lot with promises of more money and then masturbated in front of them. I reported that man to the camp management; he was also asked to leave, but again the police were not called.
Two months later, at a TNS gathering at Sunny Rest Naturist Resort in Pennsylvania, Paul J. Zimmer, founder of an anti-circumcision group called The Newborn Rights Society, was caught in the act of fondling an eleven-year-old boy. Zimmer was baby-sitting the boy and had brought him to the camp without the mother's knowledge. This time police were called.
Also suspected of sexually abusing that boy were James Joseph O'Boyle and Robert J. Schumann. While waiting for the police to arrive at the remote location, Baxandall and the camp managers questioned all three men--and I vehemently confronted them--for several hours inside the camp headquarters.
It turned out that Zimmer had been abusing the boy sexually and psychologically for years. He was charged with "involuntary deviate sexual intercourse," "indecent assault," "sexual abuse of children and corruption of minors" and later pled guilty to "endangering the welfare of a child." But that time O'Boyle and Schumann--who had been convicted in 1976 on a child molestation charge--both got away.
The very day before Schumann arrived at the Sunny Rest gathering, he was arrested for sexually abusing another child and released from custody. Those charges were later dismissed, but in 1986 he pled guilty to "endangering [another] child" and served nearly two years in prison. (Schumann now faces a 1993 charge of sexually abusing a child who was eight.) O'Boyle, a highway patrolman, was indicted in June of 1986 on more than 90 counts of child rape and sodomy after assaulting 13 boys over a five-year period in the course of investigating child abuse cases. He is currently serving 45 years in Bellefonte, Pennsylvania.
I began to wonder if everyone came in contact with so many pedophiles. I asked several people, and concluded I was encountering a disproportionate number of sexual predators because I worked for The Naturist Society. As I was to learn the hard way, nude events all over the country were being used by pedophiles to network with one another and to meet, photograph, and gain sexual access to children, and the leadership was doing nothing substantive to stop them.
In 1986 I put together a slide show of pornographic images produced by nudist/naturist publishers--most of it reproduced from the stash given to me in Iowa--to confront the lie repeated by nudists and naturist leaders that "nudity has nothing to do with sex," and their denial that the movement was rife with sexual predators. I took this slide show to several naturist events and was astounded and deeply disturbed at how uninterested the movement was, how little members did, how many excuses they made--and what danger children were in because of it.
I finally came to understand that naturism is a paradise for sexual predators--a safer place for child molesters than for children. The cultlike zealotry of nudists; the large percentage of swingers and sexual liberals; the respect for anonymity and secrecy; the complacency, complicity, and liberalism of nudist/naturist editors--all work in pedophiles' favor.
Getting the Goods on the Bad
Joe Wanner had been a member of the Naturist Society since 1987, a prolific naturist writer, an activist for VOCAL (Victims of Child Abuse Laws), a member of the Pedophile Information Exchange (PIE), and a member of the North American Man/Boy Love Association (NAMBLA) since its inception in 1979. I first heard of him in July 1985, when he wrote a letter attacking me for my anti-pornography work. I had been going into stores cross country and ripping up Penthouse magazines to protest the racist, sadistic Asian bondage photos printed in the December 1984 issue. Wanner compared my "mutilation" of Penthouse to Nazi book-burnings in Germany. His letter had been submitted to The Event (now Naturally), a national publication that advocates "clothing-optional" recreation. Although the letter was never published, Bern Loibl, the editor, sent me a copy.
In April 1986 Loibl also became concerned about Wanner. In a memo to TNS president Lee Baxandall, editor of Clothed With the Sun (now N Magazine) and at the time still my employer, Loibl asked: "Do you know anything about a Joe Wanner? He has been writing a number of letters, I suspect under the name of Ms. Kriebel, all relating to children. . . . I'm sensing an obsession." Loibl attached the letter written by "Ms. Kriebel," and also noted a reference she made to VOCAL--a child abusers' lobby group.
Sounding exactly like another liberal defender of the "right" to sexualize children, "Kriebel" wrote that she had acquired a camera recently but was concerned because just a few miles away from where she lived a man had been arrested and charged with "sexual abuse of children" just for "taking nude photographs of a young boy. . . . I would like to know how photographers can avoid these terribly ageist child abuse laws. It seems that as the anti-pornography, anti-sex, anti-nudity religious fanatics gain control of society, they destroy many of the freedoms we Naturalists [sic] have enjoyed for decades."
Late one night as I compared this letter to Wanner's 1985 letter attacking me, I recognized "Ms. Kriebel's" signature as his. I then reread all the back issues of The Event and found another obviously pro-pedophilia letter--typical of many published in the naturist/nudist press--from Wanner/"Ms. Kriebel" in fall 1985 : "I think that by having many more photos of young people of all ages (toddlers, pre-teens, teens) this will help to show that nudism is the healthy, family-oriented, non-erotic way of life it's always intended to be. Could you have more photos of children?"
Up to that time, Wanner might have been on my shit list just for his unpublished letter attacking me, but the night I made the "Kriebel" connection was when I scrawled his name on a manila folder and stuck it in my file drawer containing a growing number of convicted and suspected sexual predators operating within the naturist movement.
In February 1989, I talked to criminal investigators at the Kutztown, Pennsylvania, police department. I passed on the letters and articles by Wanner that documented he was using aliases and obviously obsessed with children. It all began to make a case that Wanner was a sexual predator of some kind. Kutztown police immediately opened an investigation.
Simultaneously I had begun accumulating a file on one "Robert Bandonis" (sometimes "Rev. Robert Bandonis"), whose articles and letters from Pennsylvania were appearing regularly in The Event. He too articulated a familiar sexual predator's rationale. In spring 1990, for instance, Loibl ran an article by "Robert Bandonis" with photographs "Bandonis" had taken at Sandy Hook Nude Beach. One was of a young boy playing on his hands and knees, nude with his genitals exposed, building a sand castle--apparently unaware that he was being photographed and that the photo would be published in a national magazine. A man on the beach threatened to toss "Bandonis's" camera. A woman also got mad at him for asking if he could take a picture of her. According to "Bandonis," "[It] made me feel like I should have taken her picture without bothering to ask first."
It doesn't take very many sexual predators to ruin a kid's day at the nude beach--or, for that matter, her or his life. In fact, lots of nude people don't like having voyeurs and sleazy scum cruising for photo opportunities to add to their masturbation collections. But when "Bandonis" recounted his predicament to a sympathetic "lawyer who specializes in the rights of sexual minorities,"
[The lawyer] told me I did nothing wrong. He said that as long as I was on public property, I have the right to take photographs of anyone or anything. . . I'm considering taking protection along in the form of a baseball bat next time I visit the beach . . . Anyone who attacks naturist photographers is breaking the law, and we have the right to defend ourselves and our property. Since it has been traditional to include young people in nudist activities, we must also fight the insanity of child pornography laws. Nude children are not obscene!
Long after I had turned my "Bandonis" file over to police, I learned from investigator Robert Gately that "Robert Bandonis" was yet another of Wanner's aliases, with a post office box only miles away in Trexlertown.
The Innocents and the Guilty
Three years after my tip set off an investigation, the Kutztown police entered Wanner's house. They couldn't believe what they found. It took them four days, around the clock, to search the debris--stacked floor to ceiling--containing vast amounts of pornography and file-size boxes packed with nudist child pornography including Nudist Angels, Lolli Pops, Lollitots, Nudist Moppets: Life Should Be a Childhood Thing, Little Nudists, Moppets and Teens; six Polaroids of a baby boy; two sexually explicit photographs of a nude boy at a beach believed to be Sandy Hook; and over a hundred black-and-white photographs showing nude children involved in sadism, masturbation, fellatio, and vaginal penetration by objects.
Wanner also had boxes full of homemade pornographic videos. One documents his repeated rapes of a mentally impaired thirteen-year-old girl he had hired ostensibly as a "housekeeper." The girl was described by Gately in the arrest warrant as "so mentally deficient that such person is incapable of consent." According to newspaper accounts she was forced to have sex with Wanner one to three times a week. She said she did so because she was "afraid of him." Her eleven-year-old sister, whom Wanner was also charged with sexually abusing, told police Wanner had them look at pornography on five occasions. Another video documents Wanner masturbating and involved in sexual activity with cats.
As early as 1983, there had been an abuse report filed against Wanner, though he was not convicted, for molesting two prepubescent children--one who had cerebral palsy--while working for an agency that provided child care. In May 1990, at an Allentown clinic where Wanner went for kidney dialysis, police were called after a nurse complained that Wanner and another man--anti-circumcision advocate Paul Zimmer--had in their possession nude photos of male infants and toddlers. When police arrived at the scene they found the photographs, NAMBLA materials, and a copy of The Event. There was also a claim by a boy in 1990 that Wanner had attempted to lure him away from a swimming pool, though no charges were ever filed. Like other pedophiles, Joe Wanner had been sexually exploiting children a long time before he was apprehended.
It was one of the happiest days of my life when Robert Gately--the Kutztown cop who dedicated himself to the undercover work--took Wanner off the street. On January 8, 1994, Wanner, in a plea bargain, pled guilty to five counts of "sexual abuse of children," three counts of "involuntary deviate sexual intercourse," two counts of "sexual abuse of children for filming sex acts," and one count of "indecent assault." At his sentencing he expressed no empathy for his victims, and no remorse for the harm he had caused others.
Wanner was ordered incarcerated for 10 to 30 years at the State Correctional Institution at Rockview. In June 1993, according to a local newspaper, Wanner was slugged in the the eye by a twenty-year-old. In prisons, men like Wanner are often contemptuously referred to as "short eyes" by fellow inmates who--unlike a lot of liberals--don't have much tolerance for pedophiles.
Tenacious Feminism on the Case It took me years to obtain enough information to get clear about how the liberal community had deserted survivors of sexual abuse, how sexual liberals' interests conflicted with the true liberation of women and children, and how the naturist agenda clashed with the feminist one. That's when I got disillusioned and stopped working with the national naturist movement. Until they recognize and acknowledge the child abuse problem they have in their ranks, stop covering up for pedophiles and publishing their propaganda--until they identify abusers to their general membership and aggressively turn abusive men over to the police--I will work actively against them, just as I work against pornographers and other sexual predators.
Pedophiles use naturist magazines as coffeetable porn the way heterosexual men use Playboy. Sexualized photos are used to promote sales of naturist publications, even though objectification negates the very concept of healthy body acceptance. The innocence of smiling children along with the sexual availability of women are used to promote naturism to the general public, even though the movement is made up primarily of adult men. The sexual and commercial interests of naturist publishers and photographers often make them allies--philosophically and legally--with child abusers, pedophiles, and pornographers.
With the help of a good friend, I finally figured out it was these guys who belonged in jail--not me, and I stopped focusing so much on civil disobedience. My protests, which began in 1981 with me removing my shirt, led to my refusal in 1987 to remove my clothes at TNS clothing-optional events.
A year later I was fired. Baxandall put his reasons for firing me in writing: my continued work against TNS (which went on the last year I was employed), my tenacious radical feminist politics, and my refusal to recruit more women into naturism.
Lately I spend more time at my computer than at any nude beach. Word of my work is getting out, and now people send me leads and reports. Today my files include over 50 men who operate--or who have operated--within the nudist/naturist movement, and who have been convicted on child pornography, molestation, and/or rape charges. There are members of nudist and naturist organizations, photographers, nudist camp owners, nude beach organizers, and other leaders in the movement. There are many more who are suspected. Several of these men, in addition to Wanner, have been arrested because of my networking with local law enforcement and/or postal inspectors in their areas. I expect that others will be arrested in the next few years.
---
This article is reprinted from "On The Issues: The Progressive Woman's Quarterly" (Winter 1995). Copyright © 1995 by Nikki Craft. All rights reserved. There is also a very interesting article in that issue called "Confessions of a Child Molester" about a man who used nude beaches and naturist and nudist publications to get children. For any who intend to take their children to nude environments this is highly recommended reading.

Write to Nikki Craft
---
BACK TO NUDIST/NATURIST HALL OF SHAME