In 1985 Iowa City teacher Roland D. Thomson was arrested with "a hoard of pornographic materials", including "more than 120 nudist and pornographic magazines", photos and slides of nude children and other child pornography. Again in 1999 he was still a volunteer at the elementary school where his wife was teaching and was arrested again for taking photographs of children. In the newspaper articles and information that I could find after his last arrest there was only a slight mention that this was not his first arrest, with few details. None of these articles, about the previous arrest, were previously on the intenet. I wish I had posted these articles back in the 1990s and maybe this later abuse would have been avoided. In 2000, while serving his two year sentence he was still registered and able to teach in the public school system.
If you have any further information about this case or Roland or Shirley Thomson please write Nikki Craft at
---
Roland D. Thomson, Iowa City teacher arrested with "a hoard of pornographic materials, including 120 nudist magazines, nude photos of children and other child pornography.
[Detective Tommy] Widmer said his investigation began Jan. 18 when he was shown 25 photographs of young girls by Linda McGuire, assistant Johnson County attorney. The photos taken of nine different girls, had been intercepted at a Des Moines processing firm. Widmer said he talked with six of the girls who told him that the pictures were taken between 1979 and 1983. One girl said more than 100 photographs were taken of her, Widmer's report said.
On Jan. 22, the same Des Moines firm received another order from the Iowa Cit man to develop a roll of film. "When developed, it revealed various pictures of little girls ranging in ages of approximately five to fifteen years old." Widmer said. "The photos showed nude children, semi-clothed, or underwear/pajamas. All of the photos seem to be pictures taken of older pictures, taken from catalogs, child pornography magazines and other 35 mm photos.
Last Friday, Widmer went to the eastside home and seized a wide variety of pornographic materials.
There were more than 120 nudist and pornographic magazines and several hundred photographs and slides of nude children confiscated. Also seized were 42 8-by-10 pictures of children, about 25 notebooks with slides, tracing, drawings and photographs of children, about 25 sheets of diagrams showing body positions and more than 15 rolls of undeveloped pictures.
A listing of the materials by Widmer covered one page and part of another.--Excerpted from Iowa City Press Citizen, 03.08.85 (reproduced in full below)
---
---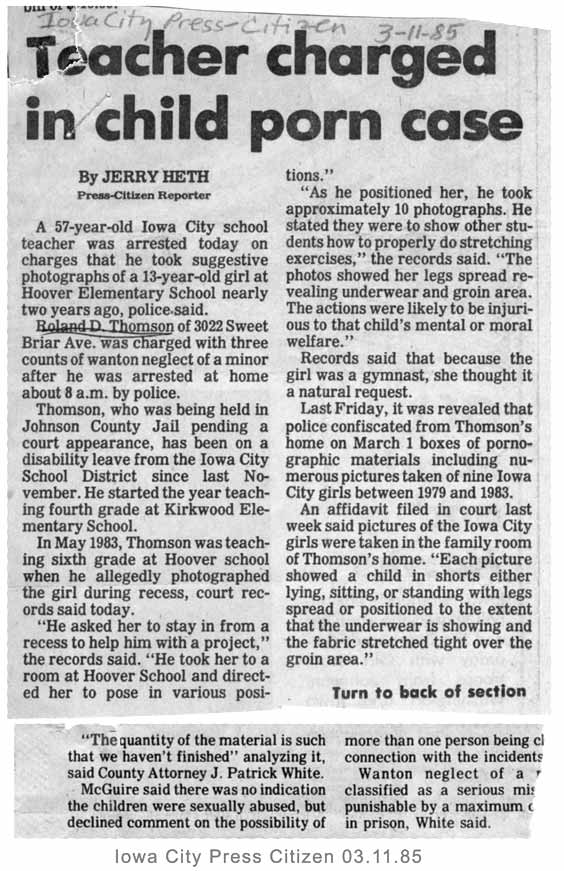 BACK TO NUDIST/NATURIST HALL OF SHAME
---
Search words: Teaches charged in child porn case. Jerry Heth. Press-Citizen Reporter. 57-year-old Iowa City school teacher was arrested today on charges he tok suggestive photographs of a 13-year-old girl at Hoover Elementary School nearly two years ago, police said. Roland D. Thomson of 3022 Sweet Briar Ave. was charged with three counts of wanton neglect of a minor after he was arrested at home about 8.p.m. held in Johnson County Jail. Iowa City School District. Kirkwood Elementary School. teaching sixth grade. photographed the girl during recess. The actions were likely to be injurious to that child's mental or moral welfare. one box of pornographic materials including numerous pictures taken of nine Iowa City girls between 1979 and 1983. A hoard of pornographic materials including photographs of Iowa City elementary school girls. iowa city detective tommy widmer said more than 10 boxes of materials have been confiscated, ranging from notebooks containing tracings of child pornography to bondage and porn magazines to a notebook with female first names. affidavit said that numerous pictures of the school children were taken in the family room at the iowa city home. Attorney J. Patrick White investigating.