Cary Stayner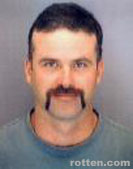 Naturist and "recreational nudist" who dreamed for years of "capturing women" was known to frequent the Yosemite Nude Beach. Stayner killed four women in the Yosemite area, burning and beheading one of his victims. After the murders he fled to and hid out at Laguna del Sol nudist camp in Wilton California. On July 24, 1999 Stayner was arrested after someone at the camp called the police. Stayner requested a "good sized stack" of child pornography as a condition of his confession.
Timeline
**1997 Cedar Lodge hires Cary Stayner to do odd jobs.
**15 Feb 1999 Murders Carole Sund and Silvina Pelosso, at Cedar Lodge.
**16 Feb 1999 Kills Juli Sund.
**18 Mar 1999 Carole Sund's rental car located in Tuolomne County. Two charred bodies are in the trunk, Sund's and Pelosso's.
**25 Mar 1999 Juli Sund's body found based on information sent anonymously by Cary Stayner.
**21 Jul 1999 Murders Joie Ruth Armstrong, a 26-year-old nature guide, at Yosemite National Park.
**22 Jul 1999 Joie Armstrong's body found, decapitated.
**24 Jul 1999 Cary Stayner arrested as a witness at the Laguna del Sol nudist camp, Wilton CA. The arresting officer, FBI Agent Jeff Rinek, observed that nearly all the women at the camp were "out of shape." Stayner requests a "good sized stack" of child pornography as a condition of his confession, which was surprising -- Stayner was not even a suspect.
**24 Jul 1999 Confesses. "Lost control of myself and lost control of her, and when all this started out... I had no intentions of cutting her head off."
**30 Nov 2000 Pleads guilty to the murder of Joie Armstrong.
**12 Jul 2000 A judge rules the government may seek the death penalty.
**Dec 2002 Cary Stayner asks for a new trial on the grounds that none of the jurors were molestation victims.
**12 Dec 2002 Cary Stayner sentenced to death in San Quentin.

**Aug 2003 The Sund family accepts a $1M wrongful death settlement from Cedar Lodge.

BACK TO NUDIST/NATURIST HALL OF SHAME