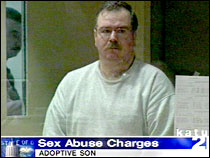 WILLIAM D. PECKENPAUGH, AKA WILLIAM DELOS PECKENPAUGH, W.D. OR BILL PECKENPAUGH, Rev Bill Pedkenpaugh and WDPECK on many internet message boards. ON DEC 1, 2004 WAS CHARGED WITH SIX COUNTS OF FIRST-DEGREE SODOMY, TWO COUNTS OF SEX ABUSE, AND ONE COUNT OF USING A CHILD FOR THE PURPOSE OF SEXUAL DISPLAY. Dec of 2005 Peckenpaugh plead guilty to 33 charges, including nine counts of sodomy and three counts of sexual abuse.
Peckenpaugh, at the time of his arrest was a member of both The Naturist Society and the American Association for Nude Recreation (AANR). He claims to be a Catholic Bishop. He is the author of "Familial and Societal Attitudes Toward Nudity, and The Effects on Children's Development," a much quoted article by Nudists and Naturists, that makes the claim that naturist children are less sexually active and more emotionally healthy than non-naturist children. Peckenpaugh has been a frequent poster on rec.nude, alt.christnet.nudism and misc.kids. If you have relevant information to assist with prosecution please contact Darin Tweedt at 503.588.5222 (case number: 04-12977).
Bill Peckenpaugh's Personal Interest Page: Nudism, Naturism, Christian Nudism, Christian Naturism, Clothing Optionality and other interests.
KGW's coverage of Peckenpaugh's arrest.
Bucharest Daily News article about abuse of adopted children which includes information about Peckenpaugh's sexual abuse of an child he adopted.
Peckenpaugh has made postings on Meta Filter. No surprise to anyone who has read Peckenpaugh, he was defending nudist photography of children and telling lies and attacking me for what I've done against pedophiles like him. Here's the MetaFilter update posted 06.06.05.
---
Man sentenced to 30 years for sex abuse
William Peckenpaugh convicted for sexually abusing adopted Romanian boy
CARA ROBERTS MUREZ
Statesman Journal
December 21
SALEM – A man who sexually abused for four years the young boy he adopted from Romania was sentenced Tuesday to 30 years in prison.
William D. Peckenpaugh, 38, of Silverton pleaded guilty to 33 charges, including nine counts of sodomy and three counts of sexual abuse.
"The nature of your offense and the multitude of our offenses over the long period of time and the violation of trust are repulsive," said Judge Jamese Rhoades.
Deputy District Attorney Darin Tweedt said the abuse started within weeks after Peckenpaugh brought the child home from Romania. Tweedt said he believes Peckenpaugh adopted the boy to be a sex toy.
Tweedt had asked for a sentence of 60 years in prison.
"The sentence is not sufficient to protect the community in my opinion," Tweedt said afterward. "I recommended the sentence I did to ensure that the defendant does not have the opportunity ever again to hurt a child like he hurt (this child.)"
Defense Attorney Paul Ferder said Peckenpaugh's family see him as an articulate man who has done a lot of positive things in his life.
"He loves his son. His son, I think, I loves him," Ferder said. "Obviously something went awry, grossly awry, and Mr. Peckenpaugh has to pay the penalty."
Peckenpaugh also made comments, but most of them were unintelligible as he spoke with a hoarse voice.
"In spite of what Mr. Tweedt has just said, I know in my own heart that I did not adopt a sex toy," Peckenpaugh said.
The child has been in foster care since he was removed from the home after the Marion County Sheriff's Office began investigating in November 2004.
The investigation began after a sexually graphic video of a man and a young boy was discovered in a camera that had been returned to Fry's Electronics in Wilsonville.
---
Prosecutors: Man adopted child in Romania for sex abuse
December 1, 2004

VIDEO
Watch this story

by Tim King,
Salem-News.com SALEM, Ore. - A Marion County man charged with a number of child sex crimes appeared in a Marion County courtroom for his arraignment Tuesday.

Prosecutors say 37-year old William D. Peckenpaugh travelled to Romania to adopt a boy, then brought him back to the U.S., only to be be plunged into a life of child pornography.

The Romanian boy's tragic journey from an East European orphanage, to a life of sex abuse in Marion County, is "off the charts" according to Darin Tweedt of the Marion County D.A.'s Office.

He says he has seen it all during his time as a prosecutor, but the sadness of this particular case, in which a young boy goes from a Romanian orphanage to an American foster home, is very unusual.

Peckenpaugh is charged with six counts of First-Degree Sodomy, two counts of Sex Abuse, and one count of Using a Child for the Purpose of Sexual Display.
---
Videotape shows sex abuse, police say
A man is accused of crimes against his adopted son

CARA ROBERTS MUREZ
Statesman Journal

December 2, 2004

A Silverton man stands accused of years-long sexual abuse of his son, whom he adopted from a Romanian orphanage, after a sexually graphic video was found in a camera that had been returned to an electronics store.

William Delos Peckenpaugh, 37, was arraigned Tuesday on six counts of first-degree sodomy, two counts of first-degree sexual abuse and using a child in the display of sexually explicit conduct.

He is being held without bail in the Marion County jail.

His 9-year-old son was placed in the custody of the Department of Human Services and remained in a foster home Wednesday.

The Marion County Sheriff's Office began investigating Nov. 15. Investigators were alerted to the alleged abuse after a couple bought a video camera at Fry's Electronics in Wilsonville, Deputy District Attorney Darin Tweedt said.

The video camera had been returned to the store by a Peckenpaugh family member, Tweedt said, and the store then sold the camera to the couple.

The couple discovered a sexually graphic video of a man and a young boy in the camera. They returned the camera to the store, and employees called police.

The district attorney's office thinks that the man and boy on the video are Peckenpaugh and his son.

The alleged abuse had been going on for four years, Tweedt said.

Peckenpaugh was indicted by a Marion County grand jury last week. He has no criminal history, according to Oregon court records.

Peckenpaugh adopted the boy from an orphanage in Romania, Tweedt said.

"There are a lot of avenues in this investigation that are still open," Tweedt said. "Obviously we want to know more about how he came to our country."

A man named Bill Peckenpaugh from Silverton wrote the Statesman Journal in June 1999 about his frustration with the Immigration and Naturalization Service, which he thought was dragging out the review of his application to adopt a child from Romania.

Peckenpaugh and the boy lived with Peckenpaugh's parents, Tweedt said.

Peckenpaugh's father also is named William Peckenpaugh. The senior William Peckenpaugh is retired but serves as the vice president of the board of directors for the Silverton Fire District.

Vince Herman, chief of the fire district, said that he is acquainted with the younger William Peckenpaugh, who had briefly volunteered for the fire district, but that he does not know him well.

Herman is good friends with the senior William Peckenpaugh and his wife, Carol, and has met their grandson many times.

"They're very good and very loving grandparents," Herman said. "This whole ordeal I am imagining is very hard on Bill and Carol."

carar@StatesmanJournal.com or (503) 399-6750


Reprinted from The Statesman Journal
---
Reprinted from the Marion Sheriff's Inmate Roster
C1/206 PECKENPAUGH, WILLIAM DELOS SID: 12873453 LODGED
Lodged: 11/15/2004 18:30 Max: DoB: 11/12/1967
Arrest: SMS Type: PROBABL Docket: 04C53058 Hold Auth: MARION
Charge Bail Status Next Court Release
1 SODO I NO BAIL PRETRIA12/08/2004 08:30 CIRCUI
2 SODO I NO BAIL PRETRIA12/08/2004 08:30 CIRCUI
3 SODO I NO BAIL PRETRIA12/08/2004 08:30 CIRCUI
4 SODO I NO BAIL PRETRIA12/08/2004 08:30 CIRCUI
5 SODO I NO BAIL PRETRIA12/08/2004 08:30 CIRCUI
6 SODO I NO BAIL PRETRIA12/08/2004 08:30 CIRCUI
7 SEX AB I NO BAIL PRETRIA12/08/2004 08:30 CIRCUI
8 SEX AB I NO BAIL PRETRIA12/08/2004 08:30 CIRCUI
9 USE CHILD NO BAIL PRETRIA12/08/2004 08:30 CIRCUI
---
Peckenpaugh's Personal Interest Page
---
BACK
TO NUDIST/NATURIST HALL OF SHAME